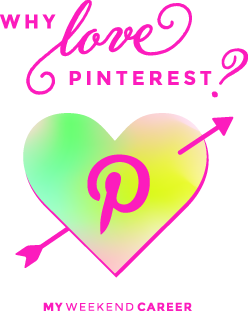 What is Pinterest? 
Firstly if you don't know what Pinterest is or how it works here's my quick overview. Pinterest is like an online digital corkboard where you can insert (Pin) any images direct from your browser (Safari, Firefox, Internet Explorer) window onto it. You organise your images on 'Boards' and can 'Follow' other people (similar to Facebook) where their images come up on your feed.
However it's not just a photo album of your products. It's a chance for you to be inventive or creative and portray the real culture of your business.
Awww another social media app to update?
Well, actually – yes! Especially if your target market includes women, or if you have a product-based business. (Accessories, shoes, clothing and flowers etc). Depending on your market it may even be a better use of your time and energy than Twitter.
I think Pinterest also works well for service-based businesses too. Hairdressers can create 'Boards' of hair colours, ie: stunning redheads, perfect blonds, videos of blow drying techniques or up-do's for special occasions. Personal Trainers can create 'Boards' of instructional exercises for different body parts, inspirational quotes, or PDF sheets for sports team training.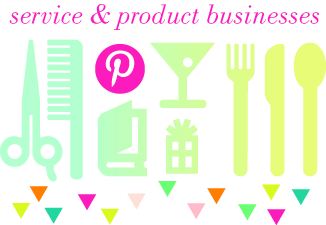 In a case study for a fashion website, shoppers visiting from Pinterest spent an average of $180 compared with shoppers referred via Facebook who only spent $85. The lead from Pinterest quickly gave the shopper a greater understanding of the business by looking through their boards. This would include boards about who they are, what kinds of things they like and what they stand for – which should align to their customers values.
I also think it allows you to tell the story of your business in a more neutral environment. A series of images that you have personally collated on a different website is a softer sell and is more like someone looking through your scrapbooks of images or ideas.
I have been using Pinterest since April 2012. As a visual person I love to be able to scroll through and collate images when doing research. I use it to 'visually explain' things to a client, like when developing their new brand or creating User Personas. It's also great for mood boards plus you can share boards with people and allow them to 'Pin' on it too or have 'Secret' boards that only you can see.
Pinterest – an overnight success? Totes not really!
Pinterest was the fastest site in history to crack 10 million unique visitors. Its seemingly meteoric growth now puts it as the third largest social media platform. (Especially for women aged 25-55)
However the story begins back in 2008 (in the middle of the economic recession in America) as a tiny startup working out of a small dingy house in California where one of the co-founders Paul Sciarra lived.
It originated as an app for the iPhone called 'Tote'. It pulled data from a variety of retailers' online catalogues to allow you create your own customized catalogue to 'shop on the go'.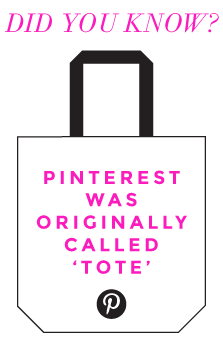 However the app struggled because people were not yet shopping online through their phones like we do now. From the analytics they could see people sending collections of products to themselves. So they built in the functionality to put images into groups or 'buckets'.
The name 'Pinterest' was coined over Thanksgiving dinner by the girlfriend of co-founder Ben Silbermann and re-launched late 2009. In early 2011 they raised Series-A financing and by December 2011 it averaged of 11 million visits each week! Less than a year later it was purchased by Facebook for $1 billion dollars. (That's a lot of shoes)
So remember, your business idea might start off being one thing and end up completely different after your users / customers get hold of it.
Keep an open mind and roll with the punches. The founders of Pinterest could have thrown in the towel when the app didn't take off, but instead looked at how people were using the app and built new functionality to suit their users needs. Their 'overnight success' actually took 4 years.
5 ways you can use Pinterest for your new business
1. BRAND
Create boards of logos you like to help when briefing a designer, or if you need inspiration for your logo.
2. SEO
Writing really good SEO copy (keyword driven) for pin descriptions, board names and board descriptions. My followers tripled when I added decent (funny) descriptions to my boards.
3. RESEARCH
Research your competitors or research your perfect customers and see what other things they are spending their money on. Also you can comment on peoples pins (respectfully) if you have something to add to the conversation and this can help to set you up as an 'expert' in a specific area to become more influential online.
4. SELLING
Pinterest also has 'Rich Pins' which allow you to add extra content to your pin image. This includes prices on your products, recipes and articles for people to read. It is a bit more complex as you have to add bits of code to your website where the images sit – but has proven to be worthwhile. (You need to have a Pinterest business account to utilise rich pins.)
5. ANALYTICS
To track any images you pin from your own website to Pinterest, you have to insert a small piece of HTML code into your website which will give you data to see who is pinning your items, how often and what other things they like. You get easy, free and continuous insights about your customers!
Your task! Do you have a Pinterest account? If you don't go GET ONE (it's free!) once you have I would like you to put together a Brand board of your favourite things. Consider what your brand / business / idea stands for. It might just be images of people that represent your brand, items or objects that reflect the style.